WG3 Integrated ecosystem monitoring and management

Protecting biodiversity in the Mediterranean is mainly about using and enjoying the natural resources of our rich ecosystems in a more sustainable way. This is what Working Group 3 is focused on. We need healthy ecosystems that envelope and sustain us because the human well-being depends on them, but many people's needs are not being met sustainably - if at all. We rely on ecosystems for the food, water and timber we need for everyday living. We depend on ecosystem processes to regulate natural cycles and keep diseases at bay. We rely on them for recreation, educational purposes and mental and physical enrichment.
To this end, four Interreg MED projects of the Biodiversity Protection Community are engaged in developing, testing and implementing strategies for a better integrated management of land, water and natural resources that promote conservation and sustainable use in an equitable way.
ACT4LITTER, MPA-Adapt, WETNET and POSBEMED are already sharing best practices and methodologies to tackle this issue collectively and in a coordinated way. They have started working together in our Community's "Kick off Meeting" in Marseille in March 2017. Most notably, all these projects share a common goal of a greater interaction with Marine Protected Areas (MPAs) as a crucial tool to protect biodiversity and improving the resilience of the Mediterranean ecosystems.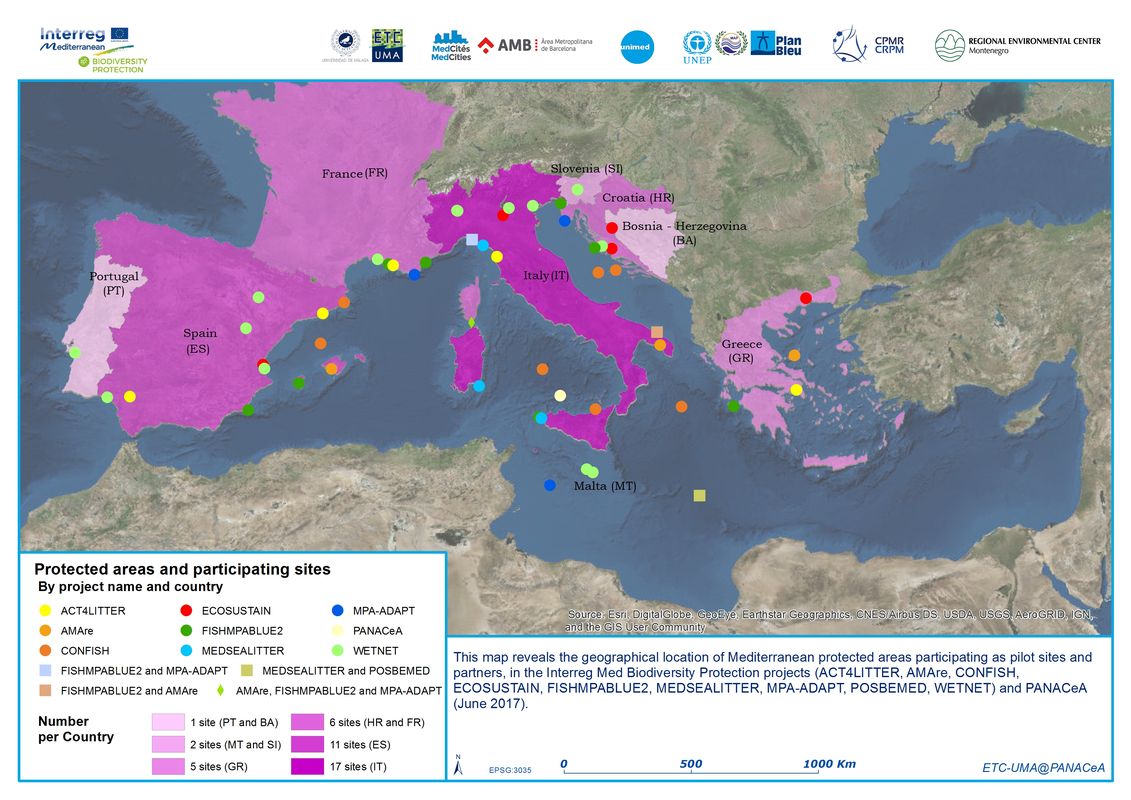 The Working Group 3 "Integrated ecosystem monitoring and management" will develop through discussions and concerted workshops knowledge exchange leading to specific recommendations in line with the objectives of policies and strategies, such as the United Nations' Sustainable Development Goals (SDG), as well as the objectives of the Mediterranean Strategy for Sustainable Development (MSSD):
Monitoring
Protection
Sustainable management and protection of marine and coastal ecosystems (SDG 14.2)
Protection and restoration of water-related ecosystems (mountains, forests, wetlands, rivers, aquifers, lakes) (SDG 6.6)
Implementation of Protected Areas
Conservation and sustainable use of oceans and their resources (SDG 14.c)
Improvement of ocean health (SDG 14.a), reduction of sea acidification, pollution and litter (SDG 14.3)
Action to reduce the degradation of natural habitats, halt the loss of biodiversity and, by 2020, protect and prevent the extinction of threatened species (SDG 15.5)
Sustainable management of fisheries (SDG 14.7) VS overfishing, illegal, unreported and unregulated fishing and destructing fishing practices (SDG 14.4 & 14.6)
MSSD: Objective 2: Promoting resource management, food production and food security through sustainable forms of rural development: the MSSD "promotes networks of ecologically protected areas, enhancing stakeholder awareness on the value of ecosystem services and the implications of biodiversity loss." (MSSD, objective 2).
Documents to download: