The online Campus session held during the IUCN World Congress on 6 September 2021 led by the Mediterranean Biodiversity Protection Community, in collaboration with the Sustainable Tourism Community, has once again shown the need to work together to achieve a sustainable Mediterranean for people and nature.
Dania Abdul Malak, Director of ETC-UMA, and MBPC coordinator, opened the session at the IUCN World Congress: "Streamlining biodiversity in sectoral development: a sustainable touristic model in the Mediterranean that ensures resilient coastal and marine ecosystems". She highlighted the fact that human pressure on biodiversity hasn't stopped increasing, despite the covid19 pandemic which significantly reduced the number of tourists in the region.
Stephanie Oudin (PosBeMed2 project) talked about the need to protect Posidonia oceanica banquettes and the restoration of Mediterranean beaches to fight coastal erosion.
Giancarlo Gusmaroli highlighted voluntary and participatory approaches to governance by the Wetnet and Tune-Up Projects through the Wetlands contract model which aims to protect these fragile areas and work towards a more effective governance of Mediterranean marine protected areas.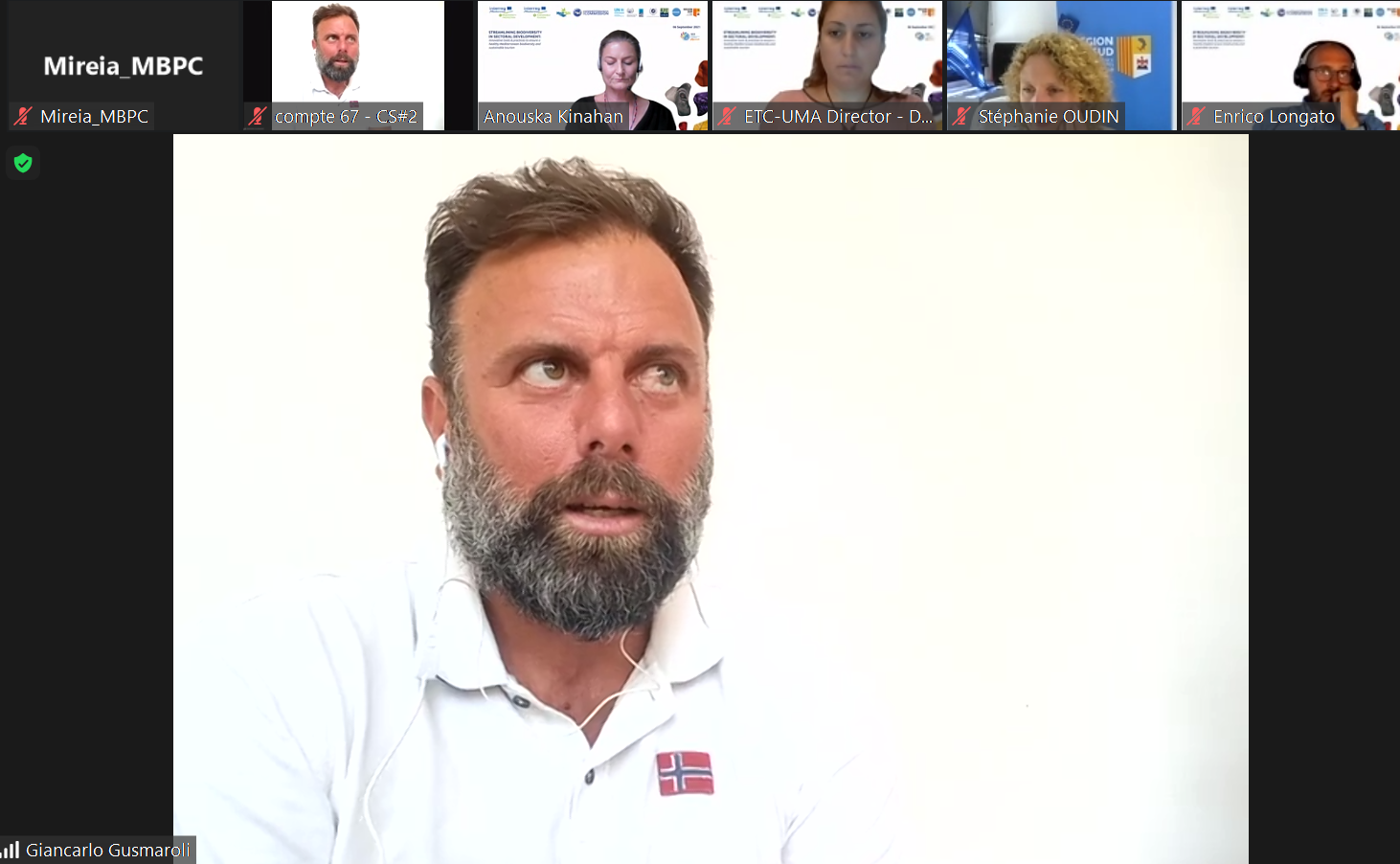 From MPA Engage, Carlo Cerrano (MEDSEA / Mediterranean Sea and Coast Foundation ) explained the support provided to MPA managers and citizens to better understand and monitor the impacts of climate change and the role they play in mitigating the climate crisis consequences.

Aniol Esteban (Marilles Foundation / MPA Networks ) presented 'Natural Capital Accounting', a methodology seeking to highlight the underestimated economic value of marine protected areas as a tool to promote the need for investment and proper management.
Arnau Teixidor, from the IUCN Centre for Mediterranean Cooperation presented the MEET Network and Destimed / DestimedPlus projects that aim to promote ecotourism and its ecological footprint calculator, which showed food and beverage having the highest footprint, excluding international travel.
Thomais Vlachogianni (MIO - ECSDE / Plastic Busters MPAs ) talked about concrete measures and actions to tackle waste and highlighted some of the dangerous misconceptions of biodegradable plastics and the need to foster an effective circular economy.
Enrico Longato (Incircle Interreg MED ) shared the tools generated and tested by the project to bring circular economy into tourism strategies.
To wrap up the event, we had the pleasure to hear the Interreg MED Programme representatives Pascale Fauveau, Francesca Marcato and Curzio Cervelli, who stressed the value of working as a community with a common vision and the programme's plan to continue strengthening the efforts of the Mediterranean Biodiversity Protection and Sustainable Tourism communities from 2022 to 2027.
You can learn more about our speakers here and our Campus agenda.
The full session video will be available soon.
This was only a taster of our presence in the IUCN Congress. Our community and partners are also contributing to the following events: