PANACeA Partnership (2016-2019)
The Interreg Med project PANACeA is supported by a partnership of Mediterranean institutions:
EUROPEAN TOPIC CENTRE - UNIVERSITY OF MALAGA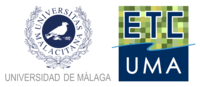 The ETC-UMA is an international research centre within the University of Malaga supporting since 2011 the development of knowledge to feed evidence-based policy. The ETC-UMA team has a wide expertise in a range of environmental and socio-economic domains. Its major areas of expertise include land management, urban sustainability, ecosystem services, coastal and marine studies, environmental conservation, territorial development, resource efficiency, and soil mapping. The Centre leads on and contributes to a number of international and European projects. ETC-UMA is leading PANACeA project under the European INTERREG-MED programme.
As partner in the European Topic Centre for Urban, Land and Soil Systems and the European Information and Observation Network (EIONET), ETC-UMA has acquired high competences in thematic environmental assessments and data sharing of terrestrial and marine European biodiversity supporting closely current Pan-European environmental policies. Within Med-IAMER and SWOS projects (among others), ETC-UMA has developed extensive knowledge on the status and trends of Mediterranean ecosystems, gained a broad exposure to regional stakeholders and published peer-reviewed articles on the role of PAs in protecting biodiversity. Its technical expertise regarding spatial data management is crucial for setting-up PANACeA's spatial data portal.
website: http://www.etc.uma.es/
MEDCITIES

MedCities is a network that gathers cities from all shores of the Mediterranean basin. It was created in Barcelona in November 1991 as a vehicle for empowering municipalities in respect of urban development issues. Its purpose is urban sustainable development as a way to improve living conditions in the Mediterranean region.
MedCities has extensive experience in project implementation, communication, capitalisation and transferability of experiences and has been active on urban sustainable development, including coastal zone management and environmental protection.
Some of the MedCities membres have competences in managing protected areas, including coastal areas, rivers and periurban natural parks, and undertake planning, environmental protection and governance activities of such areas. Involving local policy makers in the Biodiversity Protection Community is a contribution of the network in order to reinforce the networking and transferability activities of PANACeA project.
Website: http://www.medcities.org/
INTERMEDITERREANEAN COMMISSION OF THE CONFERENCE OF PERIPHERAL MARITIME REGIONS (IMC – CPMR)
The CPMR operates as a think-tank and a lobby for regions. Sub-divided into six Geographical Commissions, this unique structure enables the establishment of a strong and interlinked network. The CPMR and its Intermediterranean Commission (IMC), counting about 40 regional or sub-national authority members, from 9 different EU members states and other countries (Albania, Cyprus, France, Greece, Italy, Malta, Morocco, Spain and Tunisia).
It offers networking activities at political and technical level through the organisation of thematic working-group meetings, high-level political events, projects and advocacy campaigns. For example, Sustainable and Cultural Maritime & Coastal Tourism, together with the Integrated Maritime Policy, are among the IMC-CPMR core work priorities. It also focuses on the development of the Euro-Mediterranean dialogue and territorial cooperation, concentrating its efforts on Transport and Integrated Maritime Policy, Economic and Social Cohesion, Water and Energy. Today, it is calling for a macro-regional strategy for the Mediterranean and fostering the emergence of Mediterranean citizenship – also on migration policies – mobilising partners from the southern rims of the basin too.
Website: https://cpmr-intermed.org/
PLAN BLEU FOR THE ENVIRONMENT AND DEVELOPMENT IN THE MEDITERRANEAN
Plan Bleu is one the Regional Activity Centres of the Mediterranean Action Plan (MAP) of United Nations Environment Programme (UNEP), put in place by France since 1977. Its program of work is approved every two years by the Contracting parties to the Barcelona Convention. Plan Bleu produces studies and scenarios for the future in order to raise awareness of Mediterranean stakeholders and decision-makers regarding environment and sustainable development issues in the region.
Plan Bleu will provide its expertise in Stakeholder involvement and Community building. The UNEP/MAP Regional Activity Centre has high-level experience in designing the Mediterranean Strategy for Sustainable Development and relevant experiences in EU policy oriented projects supporting decision-making processes (Science -Decision interface) and implementation of regional policies (EU MSFD, UNEP/MAP Ecosystem Approach and ICZM Protocol).
Plan Bleu has a long-term experience in the Mediterranean, including a very good knowledge of natural and human-made issues and challenges, together with a wide network of decision-makers, experts, and scientists in all countries. It ensures communication and dissemination of studies and their synthesis in various forms, including event organization.
Website: http://planbleu.org/en
UNIMED-MEDITERRANEAN UNIVERSITIES UNION
Association of 108 Universities from the Euro-Mediterranean basin. It aims at developing scientific and educational cooperation in the Mediterranean region, in order to contribute to the process of integration between the two MED shores.
The network structure allows for the promotion of inter-university research and education in a multi-disciplinary and multi-lateral perspective. Collaborates with its network universities in projects and activities in different fields, namely through its sub-networks. Besides, Unimed acts as an important stakeholder for the cooperation, and it has become a reference point in the MED region, as evidenced through the multiple collaborations and MoU signed with key institutions and international organisations.
Website: http://www.uni-med.net/
MUNICIPALITY HERCEG-Novi
Herceg Novi is administrative, economic and cultural center of the municipality that borders with Croatia Republic, Serbia Republic and with Italy across the sea. It covers an area of 235 km2 where there are about 32.000 people and in the city there are 16.000 inhabitants. Citizens are organized into 21 local community, 40 villages of which 12 are near the sea, along the coast and others are in rural area. Only Lustica Peninsula has 32km of coastline. Herceg Novi is one of the youngest cities on the Adriatic, founded in 1382, as a commercial town (salt and silk). Located on the slopes of Orjen mountain (1895m), such conditions affect the diversity and richness of the entire horticulture of Herceg Novi Riviera. Cities like Dubrovnik and Kotor are 50 km away from Herceg Novi. It is located between two international airports Cilipi (Croatia Republic 22km) and Tivat (23km). The city is a desirable tourist destination with possibility of developing eco-tourism, sport tourism, recreational tourism, religious tourism, congresses. Herceg Novi is involved in the partnership of the Med biodiversity Protection community.
Website: http://www.hercegnovi.me/en/
Associated Partners
Adriatic Ionian Euroregion (AIE), Croatia
Association of Mediterranean Maritime Museums, Spain
Centre for Mediterranean Cooperation of the International Union for the Conservation of Nature (IUCN-Med), Spain
The European Fisheries Areas Network (FARNET), Belgium
General Fisheries Commission for the Mediterranean, Italy
Holy Spirit University of Kaslik (USEK), Lebanon
IUCN World Commission on Protected Areas, Switzerland
Mediterranean Protected Areas Network, France
MPA Island of Ustica, Italy
NGO OZON, Montenegro
UNE MAP Priority Actions Programme/Regional Activity Centre (PAP/RAC), Croatia
Provence-Alpes-Côte d'Azur Region, France
Region of Crete, Greece
UNE MAP Regional Activity Centre for Specially Protected Areas (RAC/SPA), Tunisia
Tour du Valat Foundation, France
WWF Mediterranean, Italy