Biodiversity Protection Community Partnership (2019-2022)
The Interreg Med project Biodiversity Protection Community (2019-2022) is supported by a partnership of Mediterranean institutions:
EUROPEAN TOPIC CENTRE - UNIVERSITY OF MALAGA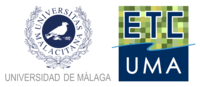 The ETC-UMA is an international research centre within the University of Malaga supporting since 2011 the development of knowledge to feed evidence-based policy. The ETC-UMA team has a wide expertise in a range of environmental and socio-economic domains. Its major areas of expertise include land management, urban sustainability, ecosystem services, coastal and marine studies, environmental conservation, territorial development, resource efficiency, and soil mapping. The Centre leads on and contributes to a number of international and European projects. ETC-UMA is leading Biodiversity Protection Community (the second phase of the PANACeA first phase project that was lead also by ETC-UMA) under the European INTERREG-MED programme.
As partner in the European Topic Centre for Urban, Land and Soil Systems and the European Information and Observation Network (EIONET), ETC-UMA has acquired high competences in thematic environmental assessments and data sharing of terrestrial and marine European biodiversity supporting closely current Pan-European environmental policies. Within Med-IAMER and SWOS projects (among others), ETC-UMA has developed extensive knowledge on the status and trends of Mediterranean ecosystems, gained a broad exposure to regional stakeholders and published peer-reviewed articles on the role of PAs in protecting biodiversity. Its technical expertise regarding spatial data management is crucial for setting-up PANACeA's spatial data portal.
website: http://www.etc.uma.es/
MEDCITIES

MedCities is a network that gathers cities from all shores of the Mediterranean basin. It was created in Barcelona in November 1991 as a vehicle for empowering municipalities in respect of urban development issues. Its purpose is urban sustainable development as a way to improve living conditions in the Mediterranean region.
MedCities has extensive experience in project implementation, communication, capitalisation and transferability of experiences and has been active on urban sustainable development, including coastal zone management and environmental protection. Some of the MedCities membres have competences in managing protected areas, including coastal areas, rivers and periurban natural parks, and undertake planning, environmental protection and governance activities of such areas. Involving local policy makers in the Biodiversity Protection Community is a contribution of the network in order to reinforce the networking and the communication activities (WP2) of Biodiversity Protection Community project.
Website: http://www.medcities.org/
INTERMEDITERREANEAN COMMISSION OF THE CONFERENCE OF PERIPHERAL MARITIME REGIONS (IMC – CPMR)
The CPMR operates as a think-tank and a lobby for regions. Sub-divided into six Geographical Commissions, this unique structure enables the establishment of a strong and interlinked network. The CPMR and its Intermediterranean Commission (IMC), counting about 40 regional or sub-national authority members, from 9 different EU members states and other countries (Albania, Cyprus, France, Greece, Italy, Malta, Morocco, Spain and Tunisia). It offers networking activities at political and technical level through the organisation of thematic working-group meetings, high-level political events, projects and advocacy campaigns. For example, Sustainable and Cultural Maritime & Coastal Tourism, together with the Integrated Maritime Policy, are among the IMC-CPMR core work priorities. It also focuses on the development of the Euro-Mediterranean dialogue and territorial cooperation, concentrating its efforts on Transport and Integrated Maritime Policy, Economic and Social Cohesion, Water and Energy. Today, it is calling for a macro-regional strategy for the Mediterranean and fostering the emergence of Mediterranean citizenship – also on migration policies – mobilising partners from the southern rims of the basin too.
Website: https://cpmr-intermed.org/
PLAN BLEU FOR THE ENVIRONMENT AND DEVELOPMENT IN THE MEDITERRANEAN
Plan Bleu is one the Regional Activity Centres of the Mediterranean Action Plan (MAP) of United Nations Environment Programme (UNEP), put in place by France since 1977. Its program of work is approved every two years by the Contracting parties to the Barcelona Convention. Plan Bleu produces studies and scenarios for the future in order to raise awareness of Mediterranean stakeholders and decision-makers regarding environment and sustainable development issues in the region. Plan Bleu will provide its expertise in Stakeholder involvement and Community building.
The UNEP/MAP Regional Activity Centre has high-level experience in designing the Mediterranean Strategy for Sustainable Development and relevant experiences in EU policy oriented projects supporting decision-making processes (Science -Decision interface) and implementation of regional policies (EU MSFD, UNEP/MAP Ecosystem Approach and ICZM Protocol). Plan Bleu has a long-term experience in the Mediterranean, including a very good knowledge of natural and human-made issues and challenges, together with a wide network of decision-makers, experts, and scientists in all countries. It ensures communication and dissemination of studies and their synthesis in various forms, including event organization.
Website: http://planbleu.org/en
LATTE CREATIVE
At Latte we work side by side with organizations defending and protecting human rights, animal welfare, and the environment, as well as with civil society groups, social businesses and ground-breaking start-ups, and with the EU and national authorities to try to leave the world better than we found it. One campaign at a time. Raising awareness and engaging communities is often just a matter of being heard. And that with the right communication tools you can easily boost your voice and expand the scope of your cause.
By taking part in this project working on the WP2, communication, Latte Creative aims to contributing to yet another environmental campaign and to build reputation in the sector, highlighting efficiency, sensitivity and eddectiveness of its communication actions and activities.
Website: https://www.lattecreative.com/
MINISTRY OF MONTENEGRO

The Ministry of Ecology, Spatial Planning and Urbanism is the competent authority with the overall responsibility for the development, management and coordination of environment and climate action policy in Montenegro. In this context, the Ministry of Montenegro has thematic Directorates dealing with different topics and among them the Directorate for Nature and within the Division for integrated management of coastal and land/terrestrial ecosystems, and the Directorate for EU integration, international cooperation and climate change which is responsible for policy framework and coordination of activities in two important topics of the project: Marine environment protection and Climate Change.
The project will enable the Ministry to benefit from data and management/monitoring tools and EBM approaches and thus contribute to fulfilling the Country' obligation in the approximation process to EU, as well as achieving closing benchmarks for Chapter 27.
Website: http://www.mrt.gov.me/en/ministry
Marine institute
Marine Institute works closely with Blue World Institute (BWI) and the Croatian Natural History Museum organising workshops, lectures and public awareness activities as part of the LIFE Euroturtles project, EMFF MarGnet project and Interreg Italy-Croatia Soundscape and ECOSS projects. As the MI is a public equivalent body founded by the BWI and the City of Mali Losinj it can upon the non-governamental networks of these two organisations to ensure the widest transfer of the results of this project through local and regional events, projects and campaigns and working meetings. This structure combines logistical support of the BWI and the financial support of the local public municipality. The Marine Institute wil benefit from the project by sharing and exchanging knwoledge and the best practices with community of stakeholders interested in biodiversity conservation and management measures particulary in the Adriatic region.
Website: http://www.marineinstitute.eu/
ASSOCIATED PARTNERS
Municipality of Herceg Novi (OHN)
Arab Network for Environment and Development (RAED)
Mediterranean Protected Areas Network (MedPAN)
Région Province-Alpes-Cote d'Azur
WWF Mediterranean (Italy)
Goverment of Catalonia, Directorate General of Fisheries and Maritime Affairs
Ville de Marseille
Adriatic Ionian Euroregion (Croatia)
Regione Lazio (Italy)
University of Balamand / Université de Balamand (Tripoli)
Tour du Valat Foundation, France
Regional Activity Centre for Specially Protected Areas (RAC/SPA)
IUCN World Commission on Protected Areas (WCPA)
Centro de cooperación del Mediterráneo de la Unión Internacional para la Conservación de la Naturaleza (UICN-Med)
Legambiente
Region of Crete
Public agency for promotion of entrepreneurship and developing projects of Municipality of Izola (Slovenia)
Small Islands Organisation - SMILO (France)
Latin Arco – Arc Latin
ISPRA (Italy)
Service de protection de la nature et politiques des forêts de la Région Autonome de Sardaigne (Italy)
The Resource Environmental Center REC Albania
American University of Beirut- FAFS